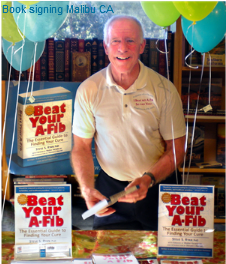 Welcome my A-Fib friends

My name is Steve Ryan and I'm a former A-Fib patient. I found my cure. So can you!

That's why I wrote my book, to help you and other A-Fib patients. Beat Your A-Fib: The Essential Guide to Finding Your Cure is based on my personal experience searching for own my cure and over ten years of helping other A-Fib patients through my non-profit website, Atrial Fibrillation: Resources for Patients (A-Fib.com).
'Beat Your A-Fib' is written in everyday language for newly diagnosed patients and their families, as well as for patients who don't want to wade through medical texts and research journals to understand their disease. 'Beat Your A-Fib' helps you go beyond the common drug therapies that only manage the disease, but do not cure it. My book helps you find your cure, just like I did.

ACT TODAY! 'Beat Your A-Fib' is available as both an eBook (.PDF format) and as a softcover book. Order your copy TODAY! (You can be reading your eBook right away.)


Be assured! Read what doctors and patients are saying about 'Beat Your A-Fib'. Read our 5-star customer reviews on Amazon.com, and our numerous professional reviews. Learn how you can 'Beat Your A-Fib'. Click one of these links or use the top menu:
ACT NOW!
Get your copy of '
Beat Your A-Fib
'
TODAY.
I'm confident you can find relief from the burden of your Atrial Fibrillation.
Wishing you good heart health!
Steve
Steve S. Ryan, PhD
P. S. Shortly after its debut on Amazon.com,
Beat Your A-Fib
ranked #1 in 'Hot New Releases in the Heart Disease' category. Since then
Beat Your A-Fib
has continually ranked
on the
Amazon's Top 100 Best Sellers
lists in two categories: Heart Disease, and Disorders & Diseases Reference.