US Review of Books
Winner- E-Book Nonfiction 2014 Eric Hoffer Awards
...Dr. Ryan does a layman's job of outlining the disorder and its approaches toward a cure. The latter point is important, since many patient-oriented manuals on medical conditions can quickly bury themselves in jargon that the patient will never absorb. Each section of Beat You're A-Fib is laid out in a cogent, eye-catching format that will leave the reader better informed and more confident in his future. This book does everything good found in an effective guidebook: It outlines the problem, covers the landscape of treatments, brings the patient through an identified cure, and provides additional resources for investigation.(May 2014) Read the full review online.


Pierre Jaïs, M.D.
Professor of Cardiology, Haut-Lévêque Hospital in Pessac, Bordeaux, France.
Author, A Practical Approach to Catheter Ablation of Atrial Fibrillation

This book is incredibly complete and easy-to-understand for anybody. I certainly recommend it for patients who want to know more about atrial fibrillation than what they will learn from doctors. One of the critical thoughts of this book is written on page 165 and says "don't let anyone, especially your doctor, tell you that A-Fib isn't that serious, or you should just learn to live with it". I must admit this is unfortunately not unusual and has never been helpful to patients who are disabled by their atrial fibrillation. One may in fact think that this book should be read by physicians as well. (January 2014)


Cary Presant, M.D.
Author of Surviving American Medicine: How to Get the Right Doctor, Right Hospital, and Right Treatment with Today's Health Care

Beat Your A-Fib [The Essential Guide to Finding Your Cure] is a terrific guide for helping patients challenged by this condition to navigate health care issues about the disease. The understandable and clearly written descriptions, which are supplemented by good illustrations and photos, help people to get better care from their physicians. The section on "interview questions" to ask doctors and the answers to expect is particularly good. Patient stories always help patients to understand that they are not alone in facing this condition. I recommend this book to people for better medical care. (Oct 2013)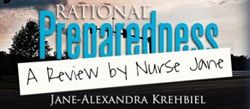 Jane-Alexandra Krehbiel
Critical Care RN
Blogger and author: "Rational Preparedness: A Primer to Preparedness" and "What I Learned from Daniel"

I spent this week carefully reading and digesting Beat Your A-Fib: The Essential Guide to Finding Your Cure by Steve S. Ryan, PhD. I read it as a Critical Care RN, a former college instructor and also as daughter, and mother of people with atrial fibrillation. This year, I endured several episodes of atrial fibrillation for the first time myself. This is a groundbreaking book which not only explains atrial fibrillation for those who are not in the medical field, but explains the psychological aspects, as well as recent research in reasonable digestible form for those who are.
It is also the best reference anywhere detailing what to expect as a patient in cardiac ablation. This book should be required reading for any physician or nurse, as it will unquestionably guide them in their support and encouragement of those with this very common heart conduction issue. It is invaluable also to anyone weighing their own treatment options for atrial fibrillation. (November 16, 2012)





Readers' Favorite Book Reviews
by Lit Amri

'Beat Your A-Fib: The Essential Guide to Finding Your Cure' "...is a comprehensive guide for anyone in search of a cure for their atrial fibrillation....laymen do not need to fear confusing medical jargon. It covers everything you need to know, if I may say, and even more so than the conventional medical system itself. Without degrading the importance about getting to know A-Fib, the causes, mineral deficiencies, and other topics in this book, I find the personal stories most encouraging and very helpful...All in all, patients of A-Fib and their families would definitely benefit from this priceless guide." (August 2013) See the full review.



Patient Safety America
by John T. James, Ph.D., Publisher

"…If your cardiologist diagnoses you with A-fib, you have a myriad of choices to deal with your illness. The thesis of Dr. Ryan's book is that a cure is better than management with drugs…The text is easy to read and Dr. Ryan elaborates with clear diagrams, relevant examples, lessons learned, and snippets of "wisdom." ...There are serious risks in not treating the disease. Dr. Ryan's book is an excellent place to build your knowledge of this disease so that you can be a full partner with your cardiologist in deciding your best course of treatment…" (December 2012) Read the full review.




The Midwest Book Review
by James A. Cox, Editor-in-Chief

"Former atrial fibrillation patient and healthcare educator Steve S. Ryan, Ph.D. presents Beat Your A-Fib, a solid guide to combating this emerging cardiovascular epidemic. Chapters explain medical terms and concepts concerning the condition in plain language for lay readers, discuss and immense variety of non-drug treatment options, offer testimonies from former A-Fib patients who overcame their condition and much more. Beat Your A-Fib is a "must read" for anyone suffering from or at risk for this serious medical condition." (June 2012) See the review online.




Review of 'Beat Your A-Fib (eBook version)
by Dick Inglis, Publisher

"...the book is very user-friendly, with bright colors, and pleasing layouts, using boxes to the side of the text to emphasize important points and providing links to cases relevant to a particular topic. And, the ebook format means...its content is greatly expanded by an extensive Resource list with links providing immediate access. It's not your grandmother's textbook!

...The book also becomes part of the movement towards empowering the patient to "partner with their doctor", as one energetic lay expert put it. [Beat Your A-Fib]...empowers the [patient] with basic knowledge that by itself can give him a feeling of control over a heart situation gone chaotic.

The [patient] will come away with the idea that AF has serious consequences and that measures such as rate control and anti-arrhythmic medications are not a useful solution for most." (June 2012) Read full review on his website.





By Hans R. Larsen,
Editor, 'The AFIB Report'
www.afibbers.org

"I suffered from lone atrial fibrillation…for 15 years before finally finding my cure through a catheter ablation carried out by Pr. Jais in Bordeaux, France…every newly-diagnosed afibber must understand that, although having atrial fibrillation can ruin your quality of life, it is not, by itself, life-threatening. Once this is firmly established in the mind of the afibber he/she can move forward in search of a cure and avoid making hasty or ill-advised decisions regarding treatment.

This is where Steve Ryan's new book "Beat Your A-Fib: The Essential Guide to Finding Your Cure" will be of tremendous help. First of all it offers HOPE. Hope that you need not be afflicted by this miserable condition for the rest of your life. Steve's book covers all the basics like "How serious is this illness?" ,"How did I get it and why does it keep recurring?" ,"What tests are needed to properly diagnose the condition?" Equally important, "Beat Your A-Fib" covers all the angles regarding treatment from drugs to surgery and last, but certainly not least, provides invaluable advice on how to find a knowledgeable and competent physician (electrophysiologist). Rounding off the book are 16 personal afib journeys helping you to see that afib need not be a lifelong sentence of misery but that a cure is possible… '

From Amazon.com customer review: "A superb guide to atrial fibrillation"
Customer rating 4.0/5.0 on May 5, 2012; See the full review on Amazon.com